Breaking Weekday Routine with Richard Hodder

It's easy to get caught up in the grind of your mid-week routine. Sometimes you just have to make the call: pack your bags, grab your sandals and head out for something new. Richard Hodder shares his mid-week jaunt with us, as he heads out to explore the coast of the North Island of New Zealand. See where he takes off midweek, heading out to chase his shadow.
---
Summer had started to pop its head through the clouds for the last couple of days. It felt like a good time to take a break from the normal weeknight routine and embrace change in weather and spend a night under the stars. In the afternoon we decided we would go - the first step. So we packed up a couple of small bags with food, water, and some warmer clothes for once the sun would go down. We hit the road to head a few hours south.
We hit out turn off heading and south and pulled up. From the carpark, a short walk took us along a section of the East coast on the North Island of New Zealand, only well known to few. With a couple of headlands between us and our destination, we eventually hit a gap in the trees that revealed the beach we were heading to.
The sleepy beach town where we had parked our car was about as quiet as it gets, weekend crowds at bay in this mid-week adventure. We were carrying a tent - but our somewhat obvious intentions to spend the night seemed to go unnoticed.
Pictured: Men's Terra-Float Universal
Pictured: Women's Terra-Float Livia
Once arriving at the beach and after a quick explore of the area, we popped up our little tent and collected some wood to make a small fire. The sun was already getting low behind us and the beach was mostly in shade. We waited patiently for the fire to burn down to hot embers so we could cook some fish, bake potatoes and kumera and added some pre-prepared slaw to our plates. As soon as dinner was ready we added some more wood to the fire for a touch of ambience and it wasn't long until I was reminded to put my camera away so I could eat and enjoy our food while it was hot.
Pictured: Women's Terra-Float Livia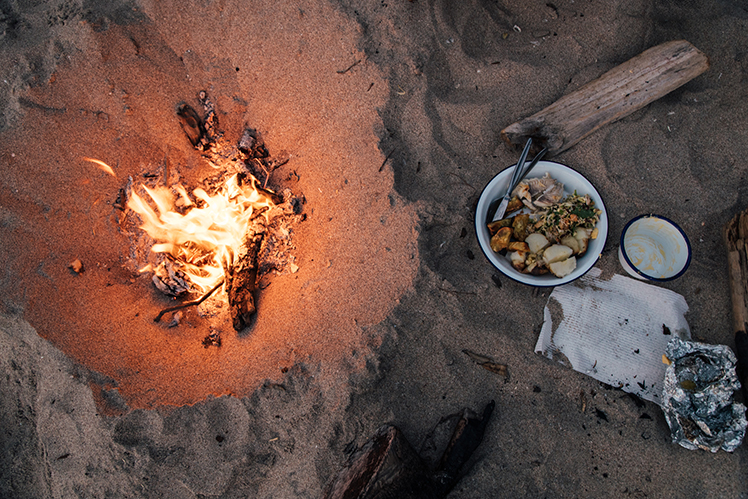 The sky went dark and the stars gradually came out from hiding. We watched the sky for an hour or so while the stars and satellites kept us entertained. It didn't take long for us to fall asleep bundled under a rug in front of the tent. Eventually we crawled into the tent, sleepy-eyed and sandy, only waking a couple of times in the night to the sound of waves crashing against the rocks on the shore.
The morning was still, clear and crisp. I started boiling some water to make a pot of coffee and decided to go for a quick swim to start the day while it was heating up. The ocean was far from warm and it was overly refreshing but filled the time perfectly while the water boiled beside the tent. A few minutes later I was pouring a coffee and we were sitting in the morning sun sipping our morning brew, which always tastes better when it's somewhere new.
Richard Hodder got around on this micro-adventure in the Terra-Float Collection. Shop the Terra-Float Collection and share your adventures with #LightenUp and @teva_australia.
TEVA BLOG
We like to go everywhere, do everything. Keep up with us on our blog with stories of adventure, frills & wide-eyed wonder.
Blog archive
Post of the month
This one's for the mums. For the ones who instilled in us our keen sense of adventure. For the ones who let us wander and roam free. For the ones who showed us the magic that happens when zealous human spirits and mother-nature collide. We've pulled together a few ideas of how to say thanks, Mum!
Read Post
Instagram @teva_australia