Field Notes: Six Days on the South Island
How does an adventure photographer tackle the South Island of New Zealand in six days? Lots of time on the road, varied sleep patterns, and a good pair of boots.
---
Words and photos by LEVI CALEB ALLAN.
DAY ONE: DUNEDIN TO QUEENSTOWN
TRAVEL TIME: 5HR VIA BUS, 282KM
My first day started off pretty easy, I'd just been dropped off in Dunedin after a week-long trip surfing some gnarly waves down past the Catlins with some local groms. Froth levels were next-level high already.
The next twenty-four hours was pretty mellow sailing - I jumped on a bus from Dunedin to Queenstown where I was picking up a rental car the next morning. The bus trip was around four hours, getting me into Queenstown around 5pm to cold-call a couple of backpacker lodges for a bed. I'd need a good night's rest before setting off on one of the most insane road trips of my life the next day.
DAY TWO: QUEENSTOWN TO FIORDLAND NATIONAL PARK
TRAVEL TIME: 4HR, 287KM
It was time to begin. I grabbed all my stuff, walked down to the car rental depo and picked up my wheels for the next five days. I managed a quick grocery shop, looked up Milford Sound on Maps and started driving.
The drive from Queenstown to Milford Sound is around 4 hours without stopping - but you definitely will want to. On the way through I stopped off at Mirror Lakes and a few carparks here and there to take in the views. Once you get into Fiordland National Park, anywhere you look will take your breath away.
I got to Milford carpark well before sunset, and scouted the area for some shooting locations. I already had a pretty good idea of the shots I wanted to get, provided the conditions held out - so things were pretty chilled from here. Once the light was where I wanted it to be and I had composition I wanted to capture, I loaded up PlayMemories Mobile App for my iPhone, left my camera on the tripod and jumped in the frame. I shoot with a Sony A7r and A6000, one of the things that drew me to Sony was it's integrated IOS app that allows you to control your camera's settings and see what the camera sees, through your mobile device (like a remote shutter release, but cooler). This makes taking images with a subject in the frame a breeze if you're travelling on your own, and you don't have someone else to jump in the frame for you. Just setup the shot and jump in the frame with your mobile device.
Once the sun set, I cooked some dinner and drove back down the road I came through and pulled up at Lake Marian Carpark. I knew I wanted to be at the lake to shoot the following sunrise, but wasn't sure whether to hike the 1.5 hour hike out to the lake tonight and camp there, or sleep in the car and do the hike at some ridiculous hour in the morning.
I decided to pack my bag and made for the lake at 10:30pm that night. I think I got there around 1:00am, taking longer with the darkness, and missing some directional sign posts. I couldn't find a near perfect flat spot to set up my tent for the night, so I ended up being wedged between two boulders.
PIT STOPS: Mirror Lakes, various carparks along route, Milford Sound, Lake Marian
DAY THREE: LAKE MARIAN TO LAKE WANAKA
TRAVEL TIME: 4HR 30MIN, 312KM
Once I got up and walked out of my tent, the serenity of the view I was looking at in front of me was indescribable.
After soaking up the scene, and taking a few shots, I hiked back to my car. I made some lunch and headed back to Queenstown and then up to Wanaka to shoot the infamous Wanaka Tree for sunset. Originally I had planned to hike up Roy's Peak that night and camp up there to be ready for sunrise the next morning, but when I got to Wanaka the weather wasn't too friendly. It was forecasted for rain and winds up 30km/h, so I knew Roy's Peak would have to wait for another time. Just another excuse to head back to New Zealand.
After shooting the Wanaka Tree with what conditions I had, and enjoying the amazing views of Lake Wanaka I found a carpark amongst the foreshore and slept in the car - enjoying the freedoms that a road trip offers.
PIT STOPS: Lake Marian, Queenstown, Wanaka, Lake Wanaka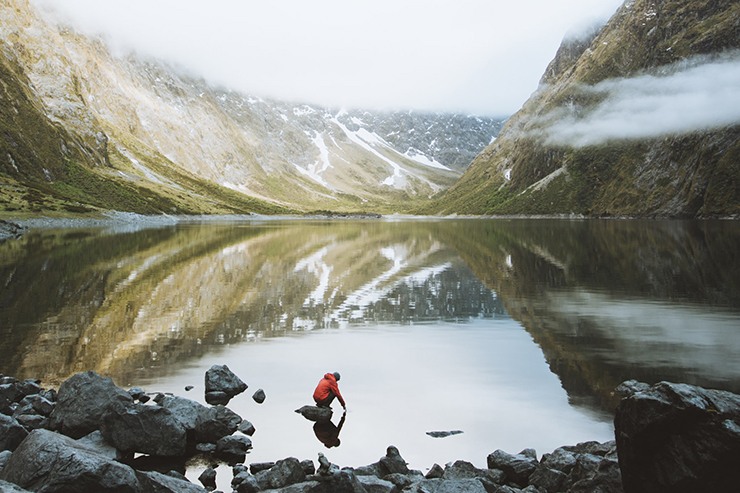 Pictured: Men's Arrowood Lux Waterproof
DAY FOUR: LAKE WANAKA TO MT COOK NATIONAL PARK
TRAVEL TIME: 2HR 30 MIN, 208KM
The next morning I immediately drove to Mt. Cook National Park (Aoraki National Park). The Mueller Hut Route had been recommended to me on multiple occasions and after seeing photos of the view up there, I couldn't say no.
Mueller Hut is one of many red bunker huts all throughout the South Island, this one specifically sits above the Hooker Valley overlooking Hooker Lake and Mt. Cook on the left, as well as absolutely breathe-taking views of the Tasman River on the right.
You can organise to stay in the hut for around $35 (depending on time of year), and it's practically 5-star backpacking accomodation. Once you pull into Mt. Cook Village, register your intentions at the Visitor Centre on the day you start your hike (you can also camp at White Horse Hill Carpark, entrance to Hooker Valley and starting point to Mueller Hut).
The hike to Mueller hut took me roughly 4 hours from the carpark, the first two hours is a steep zigzag up 2,000 steps to Sealy Tarns. From Sealy Tarns I followed the orange markers through the alpine route. Parts of the route are quite rocky, it zig-zags through alpine scrub, herb fields and tussocks to a large rock field.
PIT STOPS: Lake Wanaka, Mt. Cook National Park, Hooker Valley, Sealy Tarns, Mueller Hut
DAY FIVE: WHITE HORSE HILL CARPACK TO TASMAN GLACIER
TRAVEL TIME: 13MIN, 10KM
I woke up in Mueller Hut, walked outside and just sat in awe of what was around me. I strongly recommend getting out of bed for the sunrise if you stay at the hut, it'll be a memory you look back on for ages.
After making some breakfast and packing my bag, I started my descent back down the mountain. This is where things got interesting. Once you get off the ridge-line and you start to hike down, it's fairly steep. There was a fair amount of snow at the top, and I decided to get experimental, sat down on my bum and slid down about 200m of the mountain. At this point, I'm frothing on life, however I had my jacket pocket unzipped which had my two-week-old iPhone 7 in it, and realised only well-after it was too late.
My morning then turned into a frantic solo search party for my iPhone, until I embraced the reality that I would never see it again.
Once I got the carpark, I drove into the village got some hot chips, then headed ten minutes over to the Tasman Glacier carpark. I walked a few kilometers down the Ball Flat Route which runs parallel to the Tasman Glacier River.
PIT STOPS: Mueller Hut, Sealy Tarns, Mt. Cook Village, Tasman Glacier River
DAY SIX: TASMAN GLACIER TO CHRISTCHURCH
TRAVEL TIME: 4HR 10MIN, 337KM
After an early rise, and another early one ahead of me the next day, I knew I didn't want to do anything crazy today. I had to head back to Christchurch for my flight at 6am the next morning. I spent a good portion of the day, the way many adventure photographers would, making a cafe my homebase, editing the previous week's shots.
I headed back to Christchurch in the late arvo and dropped my rental car off. I organised to stay at the new Jucy Condo's that were around the corner from the airport (this was luxury backpacking accomodation), and flew out the next morning, with the feeling that I'd be back.
PIT STOPS: Mount Cook Village, Christchurch
Shop our ARROWOOD COLLECTION AT AU.TEVA.COM and #LIGHTENUP on INSTAGRAM @TEVA_AUSTRALIA.
TEVA BLOG
We like to go everywhere, do everything. Keep up with us on our blog with stories of adventure, frills & wide-eyed wonder.
Blog archive
Post of the month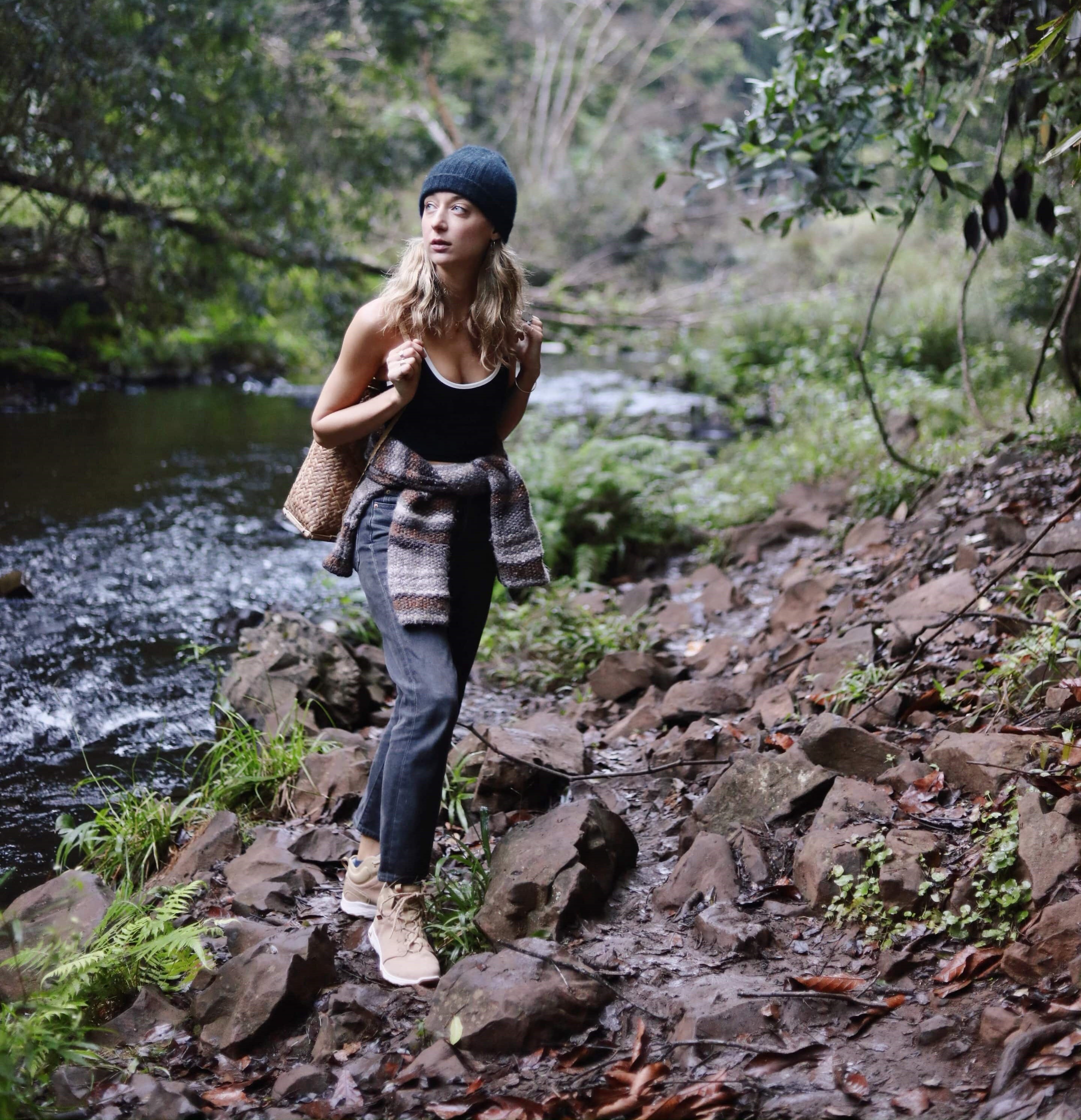 Travel writer Nina Karnikowski from Travels with Nina, takes us on a breathtaking hike into the World Heritage-listed Byron Bay Hinterland.
Read Post
Instagram @teva_australia